NANOPRESSO NS ADAPTER
Coffee kit accessories for pods
Sale price 零售价 $19.90 USD Regular price $19.90 USD
exc.VAT
NS Adapter允许Nanopresso使用雀巢®*系列的胶囊。使用胶囊的优点在于咖啡豆的研磨,测量,压粉等工序均是由机械化系统生产,每一个咖啡胶囊品质稳定度一般高于我们自制的咖啡粉,因此每个胶囊均能冲出品质良好的咖啡,而且咖啡胶囊使用既方便又干净。NS Adapter兼容Nespresso®*各种各样的胶囊。 咖啡将囊使用方便,无污染,更易于清洁。
* *NS CAPSULES是指Nespresso®**原版胶囊和兼容胶囊。 请注意,某些非雀巢原版胶囊无法在 我们的咖啡机上正常工作。

**第三方品牌胶囊与Wacaco公司没有任何关系。
产品参数
尺寸
66x62x62 mm
2.60x2.44x2.44in
产品重量
130 克
0.29 lbs
备注
NS Adapter 仅用于Nanopresso。
产品内含
NS Adapter 和
说明书 (英文版 /中文版 ).
视频
产品从全球多个配送中心(美国、欧洲、中国)发货。产品进口时可能会向收件人收取关税。欲了解更多信息,请查阅 配送政策 。
评论
买家评论
11/10/2020
Oliver T.
英国
Perfect fit for my Nanopresso
Simply install, pop in a pod, hot water and you've got a nice cup of espresso with a lovely crema. It just seems to drip a lot after getting it started so I'm not sure if I just got a faulty valve but it still works.
11/10/2020
Eugene M.
新西兰
Doesn't fit inside of the case.
Though it works great, and looks beautiful when attached. But with the adapter attached the Nanopresso doesn't fit inside if the inclined case. Which is a shame taken that it would take only a few additional millimeters in the length, and that majority is probably buying Nanopresso with the adapter.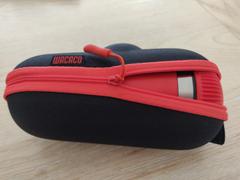 11/04/2020
Leslie G.
澳大利亚
Great.
A great addition to our coffee making , using the pods is a bit lazy .. but easy