MINIPRESSO TANK+
Coffee Kit Accessories
Sale price 零售价 $19.90 USD Regular price $19.90 USD
exc.VAT
产品描述
Minipresso TANK+ 是一个加大型水仓,完全与 Minipresso 咖啡机匹配。更换掉标准水仓后,你即可以制作 (100ml). 的长咖啡。请注意旁边图片中 Minipresso 咖啡机是单独出售的。
产品参数
尺寸
152x60x60mm
6.00x2.36x2.36in
产品重量
170gr
0.38lbs
水仓容量
120ml
4.05oz
其他
1个内置咖啡杯
视频
重要信息
Products shipped from multiple fulfillment centers across the world (US, EU, CN). Customs taxes or duties may be charged to the recipient at import. For more information read the Shipping Policy.
评论
买家评论
NK
11/06/2020
Nicole K.
澳大利亚
Finally good coffee on a camping trip
Both, hubby and I love good quality coffee. At home we have a grinder and a coffee machine. When we go camping we would do without as we don't like instant or plunger. However this little neat thing makes a great expresso shot with a crema! The shots are small so I recommend to get the expansion. We certainly were popular amongst our friends at our last trip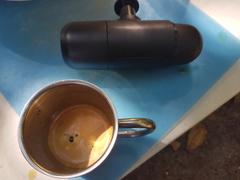 09/29/2020
Patti C.
美国
Great product
So easy to use and to travel. Compact. Easy to clean.
09/25/2020
Peter N.
澳大利亚
Extra large water tank
Great size and works better than std one. I wish it came with a bag as the machine doesn't fit in the std one now