EXAGRIND
手摇磨豆机
售价 零售价 ¥15,926 JPY Regular price ¥15,926 JPY

产品描述
The Wacaco Exagrind is an excellent fit for all coffee lovers looking for a compact and robust manual grinder that doesn't compromise precision and grind quality.
Its height is only 14.3 cm (5.6 in) and allows you to grind 20 grams of coffee, therefore more than enough to prepare a pour-over or a double espresso.
Effortless and consistent, the Exagrind features a unique precision-cut 38mm stainless-steel burrs design for a smooth motion and premium grind quality. The micro clicks adjustment (60 clicks range and 33-micron adjustment per click) enables you to quickly find the right grind size for all brewing methods, including espresso, pour-over, and cold-brew...
Its aluminum unibody frame and internal structure are machine-milled with a very low tolerance for a perfect burrs alignment and minimal clearance. As a result, the grind has an impressive uniformity for a well-balanced coffee flavor. Mounted on a stainless-steel center shaft with dual bearings, the handle rotation produces minimum friction for a smooth and easy grinding experience even at the finest espresso setting. The grinder body is covered with a silicone sleeve for a better and more comfortable grip.
As a final touch, for those willing to take the grinder on the go, the space-saving handle carrying position drastically reduces the whole product's size, making it easy to pack and store. If you are looking for a durable, high-quality, and budget-friendly manual grinder, the Wacaco Exagrind is the perfect choice to complement any coffee setup.
MAIN FEATURES:
高均匀度研磨
高精度造工
铝制一体成型外壳
38毫米不锈钢磨芯
60 格调整范围
每格33-微米间隙
双轴承的不锈钢中轴
可侧挂的手柄
可与Picopresso和Wacaco所有的咖啡机通用
Please, read our Shipping Policy as well as our Return & Refund Policy prior to purchasing our products.
产品参数
EXAGRIND
尺寸
143x53x67 毫米
5.6x2.1x2.6y英寸
产品重量
464 g
1.0 磅
材质
不锈钢,

铝,

ABS,

硅胶

, ABS,



磨芯
Ø38毫米, 420不锈钢
一圈可调
30

每格微调
33 微米

豆仓最大容量
20g

保修期
2 年

PACKAGE
尺寸
190x128x80 毫米
7.5x5.0x3.15 英寸
产品重量
710 克
1.56 磅
产品内含
Exagrind grinder, carrying pouch, brush, and multi-language instruction book.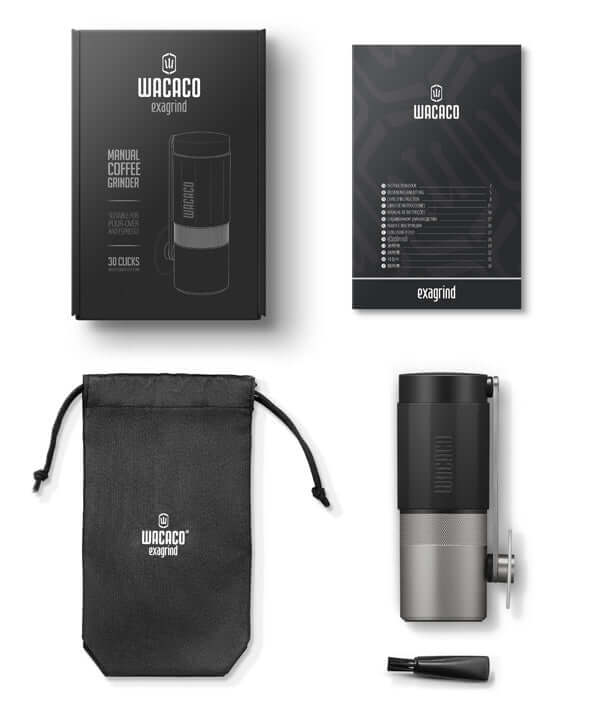 视频