BARISTA TOWELS PACK (HK)
Cloth set
Sale price 零售价 $7.90 USD Regular price $9.90 USD
exc.VAT
产品描述
这些毛巾非常适合清洁您的便携式浓缩咖啡机。 无论是干燥的或稍微潮湿的,都有助于保持咖啡设备和配件的清洁。 是作为咖啡准备垫的适合尺寸,它们有助于吸收任何水或咖啡溢出物. 该套装盒包含 2 黑色毛巾。
产品参数
Towel Dimension
28x28 cm
11x11 in
制作材料
85% 涤纶, 15% 尼龙
其他
可机洗
产品从全球多个配送中心(美国、欧洲、中国)发货。产品进口时可能会向收件人收取关税。欲了解更多信息,请查阅 配送政策 。
评论
买家评论
DP
12/11/2020
Dionysios P.
塞浦路斯
Excellent Quality
Excellent Quality
12/03/2020
Kevin H.
英国
Barista towels and more!
If you use Wacaco products, these towels are great for soaking up the spills and work well alongside the Wacaco rubber barista mat. Great for setting up little coffee making stations when you are travelling. I have a small office for work so I can quickly make a quality brew with these products.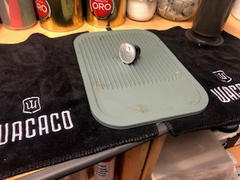 12/01/2020
John J.
新加坡
Nice towels
These are pretty good, but make sure to wash them thoroughly before first use because the colour will run.