MINIPRESSO NS
Portable espresso machine
Sale price 零售价 $49.90 USD Regular price $49.90 USD
exc.VAT
产品描述
Minipresso NS uses NS CAPSULES* to prepare espresso. The advantage is that the coffee is ground, measured, tamped, with a higher precision than we are capable of doing. There is very little left for error, so your espresso is great every time. It's also more convenient, mess free and easier to clean after use. Minipresso NS is your best choice to quickly enjoy up to 45 ml of delicious espresso at home, in the office and on the go.
* *NS CAPSULES是指Nespresso®**原版胶囊和兼容胶囊。 请注意,某些非雀巢原版胶囊无法在 我们的咖啡机上正常工作。

**第三方品牌胶囊与Wacaco公司没有任何关系。
了解更多
产品参数
尺寸
175x70x60 毫米
6.89x2.75x2.36in
产品重量
350 克
0.78 lbs
水仓容量
70 毫升
2.35 oz
平均压力
8 bar
116 psi
其他
Cleaning brush and built-in espresso cup
制作说明:
Minipresso NS is very simple and intuitive to operate. Add any compatible capsules into the outlet head. Add hot water into the water tank. Unlock the piston from its travel position and pump a few strokes to pressurize and extract delicious espresso with generous crema.
视频
Wacaco Company Limited and its products are not affiliated with, endorsed, sponsored or approved by Nespresso**.
重要信息
产品从全球多个配送中心(美国、欧洲、中国)发货。产品进口时可能会向收件人收取关税。欲了解更多信息,请查阅 配送政策 。
评论
买家评论
12/14/2020
Jason .

澳大利亚
Awesome
I work away FIFO (Fly in Fly out) got the Minipresso NS as an early Xmas gift form my son absolutely love it fantastic coffee
WOW! - says it all really!
I used to travel a bit, when money allowed. My favourite thing was to rock up to a café and sip an espresso like a local - stood up at the counter - while chatting with the locals. I saw the Minipresso NS advertised, and read a few reviews. I was a tiny bit sceptical, but I decided to go for it and stump up the cash. At least we could take this thing with us if we ever managed to get out of the house for days out after the lockdown. I ordered it, and it arrived REALLY quickly. I didn't want to spend a fortune on PODS for NS, so I went looking in my local supermarket for "Clones" that were compatible. I am not going to advertise them here, sorry to disappoint. - BUT Oh My Goodness!! What a fabulous machine! I have already used it more than any other coffee gadget I have had in the past (ta55imo etc.). I have made sure to get up early just so I can make an espresso for ME and a Cappuccino for my wife before she leaves for work. Thank you Thank you for this little Gem. It Is Utterly fantastic - I cant say any more than that. The flavours - the crema! I will be recommending this to everyone I know.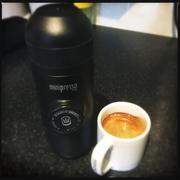 10/14/2020
Malak K.

Saudi Arabia
Great
love the fact that it doesnt need to charge!