NANOPRESSO JOURNEY SUMMER SESSION (HK)
Portable espresso machine
Sale price 零售价 $63.90 USD Regular price $79.90 USD
exc.VAT
It's summer! ... Yes, it's always summer somewhere! Prepare yourself and enjoy a good espresso against the "line-up" (facing the waves) before a crazy session, what's better? Soft and summery colors, a nice trajectory on a "right" side of California and Nanopresso to get the best coffee. "Summer Session" is part of the special editions "NANOPRESSO JOURNEY" illustrated by the French Designer/Artist SteF.
产品描述
Packed with new features and capabilities, which will drastically improve the way you prepare your favorite coffee, Nanopresso is one of the best and most versatile espresso machines. A truly unique addition to your coffee toolkit! Built around a newly patented pumping system, the Nanopresso is capable of reaching, with the help of your hands, a maximum of 18 bars (261 PSI) of pressure for unparalleled coffee extractions qualities. The Nanopresso works best with finely ground coffee that is tamped hard. It is delightfully easy to operate and simple to use. The Nanopresso requires 15% less force to pump compared to previous models (1st generation Minipresso). With Nanopresso, the power is in the machine, not in your hands. After each shot, Nanopresso maintenance takes only a few seconds. When necessary, every components of the portafilter are easily separated for deep cleaning.
Nanopresso Case is made of durable EVA material and soft fabric interior lining. It is specially designed to fit around the Nanopresso without any attached accessories. The case helps protect from any bumps, scratches, and dust. With the addition of the Nanopresso Case be ready for your next big adventure.
了解更多
NANOPRESSO CHARACTERISTICS
| | | |
| --- | --- | --- |
| 尺寸 | 156x71x62 毫米 | 6.14x2.8x2.44in |
| 产品重量 | 336 克 | 0.74 lb |
| 水仓容量 | 80 毫升 | 2.70 fl oz |
| 粉杯容量 | 8 克 | 0.28 oz |
| 最大压力 | 18 bar | 261 psi |
PROTECTIVE CASE CHARACTERISTICS
尺寸
185x80x80 mm
7.30x3.15x3.15 in
产品重量
75 克
0.165 lb
其他
内置登山挂钩孔。
PACKAGE CHARACTERISTICS
尺寸
189x85x81 mm
7.44x3.35x3.20 in
产品重量
530 g
1.17 lb
Package includes
Nanopresso, 专用保护套,
内置咖啡杯, 粉杯,
粉勺, 粉刷, 多语言说明书, 保修卡,两张贴纸。
产品从全球多个配送中心(美国、欧洲、中国)发货。产品进口时可能会向收件人收取关税。欲了解更多信息,请查阅 配送政策 。
评论
买家评论
01/20/2021
Wichai P.

泰国
I give 5 stars
I like this production, have quality.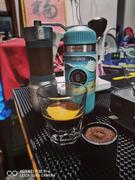 11/15/2020
Cookie T.

Hong Kong
Good coffee need some power
I love the summer print on the nanopresso, making me feel even more relaxed. I like it because it's easy, no filter or electricity needed thus more environmental friendly while ensuring myself a good cup of coffee! The only drawback is that you'll need good arm power to press. Positive way of thinking is that you can train your arms before having a good coffee. A nice start of the day ❤️
11/01/2020
Ruslan A.

乌克兰
Excellent
Thanks for good product.