NANOPRESSO 保护套-L码
Sale price Price $17.90 USD Regular price $19.90 USD
产品描述
Nanopresso保护套 (L码)由耐用的EVA材料制成,采用柔软布料做内衬。为Nanopresso精心设计,能避免碰撞,刮痕并有效防尘。可容纳Nanopresso加NS adapter或Barista Kit的转换环,和Barista Kit的水箱(140毫升)。带上Nanopresso保护套 (L码),为下一次奇遇做好准备吧!注:此产品内不含Nanopresso,NS adapter和Barista Kit,如有需要请额外购买。
产品参数
尺寸
230x77x72mm
9.05x3.05x2.85英尺
重量
90gr
0.18lbs
其他
内置登山挂钩孔。
重要信息
包邮 -从香港发出的货物。海关税或进口关税,由收件人支付。更多信息请点击查阅 配送政策
评论
买家评论
11/24/2019
Stephen R.
United Kingdom
Ideal
So I have loved espresso since working for an italian company years ago. I have an electric barista machine in my home and use daily for my wife and I. However when on holiday (especially in rural cottages or overseas) I have been coping with french press instead. SO picture the scene. a 300 year old riverside cottage at 9am. Amazon deliver my Nanopresso along with barista kit. I leapt fo caffeine based joy and used it every day with gusto. However, it was concerning that once the barista kit was used, the case didn't protect the nanopresso effectively when travelling. So finally i get to the L-case. It was ideal to hold the full size espresso with barista cup portion and double espresso portion! I feel safe taking along in my bags and confident I can get my morning coffee no matter where we are.
SV
11/17/2019
Stephen V.
United States
Believe the hype
I'm a very skeptic person by nature. Usually when something like this that sounds too good to be true comes Ali g it usually is. But I can tell you now that my Nanopresso exceeded all my expectations and is now one of my favorite pieces of gear. This thing is amazing. You won't regret you purchase.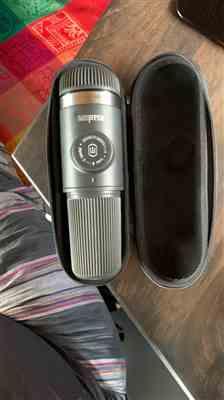 10/21/2019
Nikolai G.
Thailand
L-Case
Good for keep your Nanopresso safe during travel. Great quality!