PIPAMOKA CASE (HK)
专用保护套
Sale price 零售价 $15.90 USD Regular price $19.90 USD
exc.VAT
产品描述
Defend your Pipamoka against bumps, scratches, and dust with our protective case. The case is made from durable EVA material and has a soft fabric interior lining. There's no better way to make your Pipamoka last a lifetime. Note that the Pipamoka portable pressure brewer showed on some of the pictures nearby is sold separately.
产品参数
尺寸
210x90x78 mm
8.23x3.54x3.07 in
产品重量
100 克
0.22 lb
其他
内置登山挂钩孔。
重要信息
产品从全球多个配送中心(美国、欧洲、中国)发货。产品进口时可能会向收件人收取关税。欲了解更多信息,请查阅 配送政策 。
评论
买家评论
01/18/2021
angel p.
美国
PIPAMOKA 保护套
The Pipamoka case is a compliment for the Pipamoka, no doubt about it. The Pipamoka deserves the case. So, kudos for those who invented the Pipamoka and the case. Well done.
11/13/2020
Jacky C.
香港
Jacky
Perfectly Easy to use and for travel is good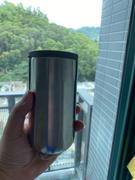 09/01/2020
Jonathan G.
新西兰
PIPAMOKA 保护套
Excellent case Robust and very convenient. I'm sure it also keeps my coffee warmer for a little longer as well.